Mining
From complex infrastructure, through to residential sub-divisions, modular housing and even transport facilities, Hutchies has delivered the full spectrum of mining associated construction solutions.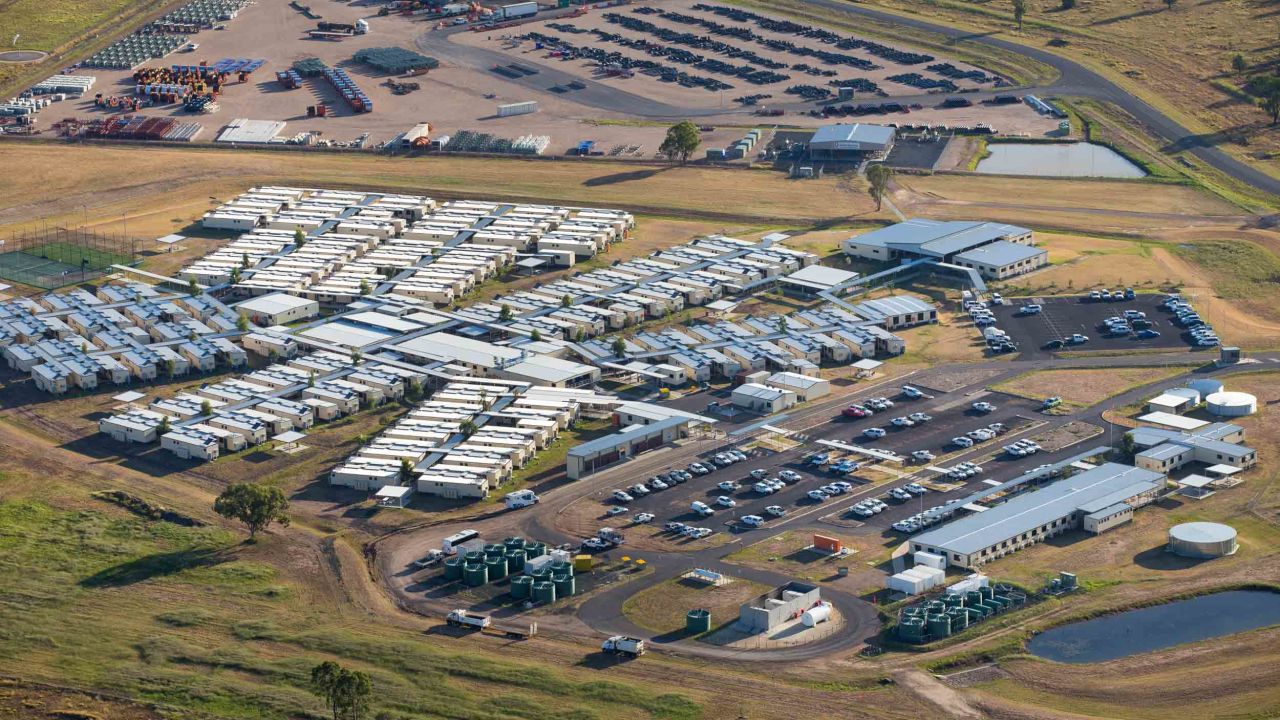 Mining Infrastructure Areas (MIAs)
Duania, Caval Ridge, Peak Downs, Moranbah & Saraji, QLD
Hutchies has delivered a range of modular solutions across the mining sector. This includes more than $100 million of complex Mining Infrastructure Areas for BHP Mitsubishi Alliance (BMA), APLNG, QGC, Wesfarmers and more. These buildings are extremely hard wearing and must be designed and built appropriately for the tough conditions and environment they serve. MIAs are central control areas for some of Queensland's biggest mines and demand highly skilled builders to comply with stringent requirements across safety, quality and environment controls.

We've build entire new complexes and been involved in major expansions of existing ones. Our modular MIA experience includes bath houses, administration / office complexes, mine planning facilities, high security areas, data centres, training spaces, go-line cribs, first aid centres, gat houses, muster buildings, workshops and maintenance warehouses.
APLNG Upstream
Condabri & Ready Creek, QLD
Origin Energy and the Australia Pacific LNG engaged Hutchies to complete several facilities, each requiring particular attention to complicated and critical building services, with a strong focus on redundancy and security.

The $100M Condabri and Reedy Creek Integrated Operations Centre (IOC) project formed part of the APLNG's Upstream Phase One Gas Facilities Project and involved the development of a 40,000 sqm greenfield site into a central hub for the APLNG's gas operations throughout the Surat Basin. The administration building for the facility incorporates the control room hub for over five hundred (500) CSG wells. The facility also includes an IOC laboratory and testing room; chemical storage area; an independent sewerage and water treatment plants, as well as full site security and extensive reticulation of services.

As well as the construction of various accommodation facilities, all with significant services requirements, Hutchies also completed the Origin Energy Integrated Operations Centre, which were twin standalone modular facilities established in remote locations as part of Origin's expansion throughout Queensland.
BMA Villages & Facilities
Moranbah & Dysart, QLD
Hutchies delivered a number of key projects together BHP Mitsubishi Alliance (BMA) in Moranbah and Dysart between 2007 and 2014. We built more than $130 million of modular housing subdivisions, incremental townhouses and single worker village communities for more than 1500 of BMA's workers and their families.

We also built the Moranbah central facilities complex which included 25 modules constructed off-site in our Yatala Yard and transported to Moranbah. The central facilities provides amenity for the mining village's workers with office areas, meeting spaces and kitchens.

Our long history with BMA has continued, we still undertake various maintenance and minor works projects across their various sites.
Rio Tinto Cajuput Village
Wickham, WA
Located 20km from Karratha, Cajuput was a revolutionary accommodation strategy for port workers at Cape Lambert developed on behalf of Rio Tinto by Hutchinson Builders. In order to provide a cost and time effective high density multi-level accommodation solution, Rio Tinto Iron Ore commissioned Hutchinson Builders to design and construct the Cajuput project in July 2011 and was completed in April 2012.

The three level project included the design, manufacture, installation and commissioning of 191 modular building units to provide 155 self-contained suites for workers. The project is serviced by four elevators and offers residents spacious internal and external break out areas in addition to individual laundry areas.

The cyclone rated modules, manufactured in our Landsdale manufacturing facility are road transported from Perth to Wickham prior to being lifted into position, complexed and commissioned. Each module is constructed to achieve a 2 hour fire separation and is field tested to provide RW55 acoustic performance. This pioneering project is the first of its kind in the Pilbara Region and established a new benchmark of short-term accommodation standards for mining houses in the region.
QGC Control Buildings
Western Queensland
Hutchies has worked with QGC on several projects involving complex building services, data facilities and high security requirements. Most notably, the $35M Chinchilla operations production hub is a two-storey, 2800m2 class 5 office building, incorporating high security data control and operations areas. The facility incorporates the Upstream Control Room (UCR), which is an integral and important control centre for QGC operations in Queensland. It is comprised of office space, a data centre, UPS rooms, redundant power systems, redundant chilled water systems for critical data equipment operation, staff facilities, technician's rooms, and operations rooms. The building has multiple redundancy for all essential services; the mechanical and electrical/data are backed up by a UPS and two diesel generators.

Also based in Chinchilla, QGC's upstream operations warehouse maximises energy efficiency with its state-of-the-art air cell insulation throughout, ridge ventilation in the roof and LED lighting throughout. Security of this complex was a key factor and included the installation of 24 articulated HD CCTV cameras streaming back to the head office in Brisbane at all times. Additionally, access control card readers were installed on all doors, fully automated access control gates and a colour video intercom system were installed on the premises. The construction of water treatment plant control buildings in the Surat Basin maximised the potential of modular technology to house sensitive control equipment. The installation included features such as: Vesda aspirating smoke detection, secure computer floors, UPS, and gas suppression. These systems are all linked via a BMS.
#Get in touch
Talk to our modular specialists