Health
The health sector has some of the most complex and rewarding construction work around. We're proud of our accomplishments in this area. From innovative modular hospital and health solutions for remote and rural communities, to cutting edge pathology laboratories, Hutchies is creating a niche in this space.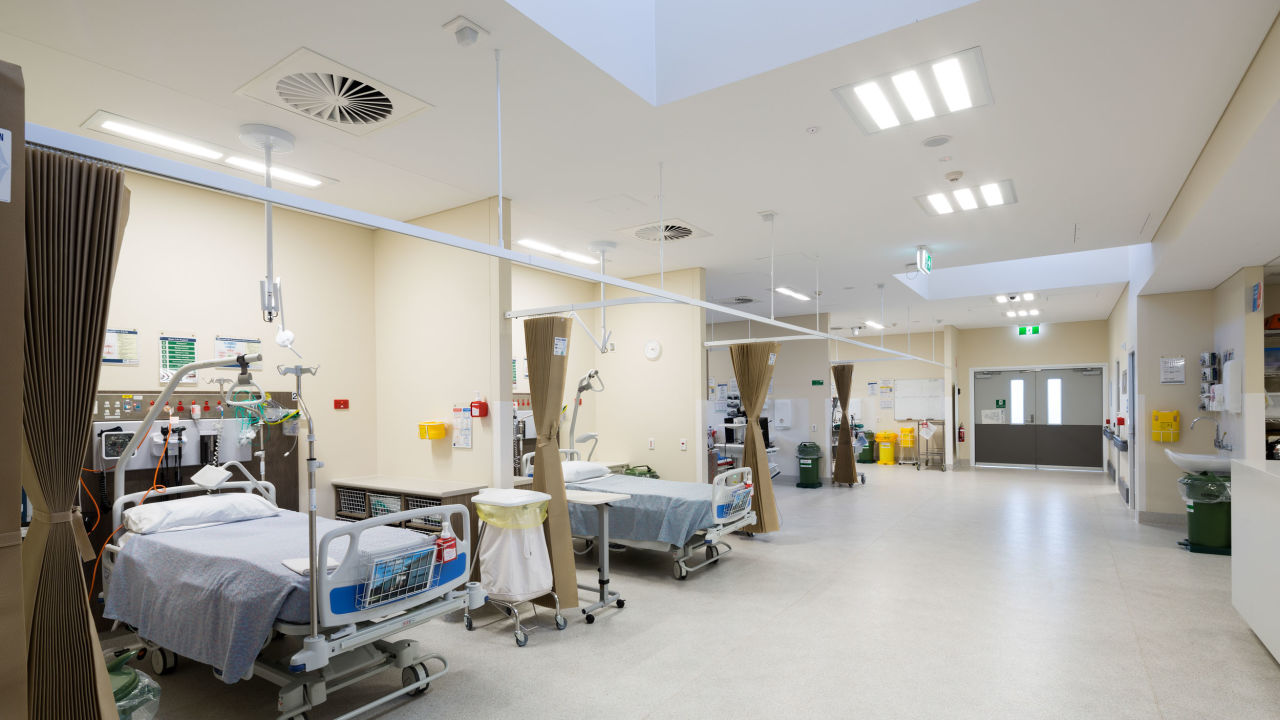 Broken Hill Health Service
Broken Hill, NSW
Off the back of our extensive regional health experience Hutchinson Builders was awarded the NSW Government's tender to deliver the redevelopment of the Broken Hill Base Hospital and Dental Facility. Built in 1889, Broken Hill Base Hospital is now one of New South Wales' oldest rural referral centres servicing far west region of the state. This major renewal project included the upgrade of parts of the main hospital and construction of a new modular dental facility and Community Health Centre, in line with the Far West Local Health District's (FWLHD) Clinical Services Plan.

The new integrated Community Health Centre has a five-chair dental health facility; child, family and community health services; and new staff offices. The upgrade to the main building reconfigured the hospital's ambulatory care wing to expand cancer care services and consolidate waiting areas for patients. The 42 individual modular components were constructed at Hutchies' Toowoomba Modular Yard and transported by road to site.
Logan Hospital Ward 2M
Logan, QLD
Hutchies was delighted to work with Metro South Hospital & Health Service to bring a much-needed expansion to the Logan Hospital's sub-acute care ward. Since the Hospital opened its Rehabilitation Unit in 2014, there has been a large increase in the demand for non-critical patient care. To cater for the growth, Hutchies is constructing innovative prefabricated buildings that will support an additional 28 beds in the sub-acute care unit.

The buildings were constructed off-site in a controlled environment at Hutchies' Modular Yard in Yatala, QLD. Creating prefabricated buildings allowed our specialty team to work with no weather, trade or supply issues, giving us the ability to deliver a consistently high-quality project with minimal waste and disruption to Hospital activities.

Our experience working in live operating environments enabled us to seamlessly deliver all site preparation and enabling works such as demolition, services diversions, provisions of services infrastructure and civil works. We planned accordingly to ensure that our on-site activities including the creation of a linkway to the existing Hospital and the delivery and installation of the modular buildings will bring minimal disruptions to patients, staff and local residents.
Caboolture Hospital Mental Health Ward
Caboolture, QLD
In partnership with our long term client Queensland Health, Hutchies designed, built, installed and commissioned this full turnkey modular solution for Caboolture Hospital. Continuing off our recent success at Logan Hospital with a similar solution, Queensland Health had confidence in Hutchies' ability to provide this fast tracked priority expansion at Caboolture.

We officially handed over the new Mental Short-Stay Facility in March 2020 ⁠— 16 weeks from start to finish. The expansion includes 8 short stay beds, consult rooms, staff workstations / offices, storage, cleaning and bathroom facilities. It was designed in full compliance with the mental health building specification requirements of anti-ligature.
Alpha Emergency Hub
Alpha, QLD
Off the back of the success of the Moura Community Hospital, Hutchies was engaged to construct the Alpha Emergency Hub – Queensland's first co-located hospital, ambulance, police, fire and emergency services facility. The hub includes 24-hour emergency access; inpatient beds; observation beds and resuscitation bays; private practice clinic facilities; a four-bed residential aged care facility; outpatient treatment facilities; telehealth facilities; and non-clinical support services.
GenesisCare Clinics
Bundaberg & Hervey Bay, QLD
GenesisCare provides high quality specialist care to patients with cancer and cardiovascular disease. The group is the largest provider of radiation therapy in Australia. Due to our strong track record in modular design and delivery, Hutchinson Builders was hand-picked to deliver two state-of-the-art cancer centres to provide high quality radiation therapy to Wide Bay oncology patients.

The two centres were delivered in parallel at the Mater Miseridordiae Hospital in Bundaberg, and St Stephen's Hospital in Hervey Bay. Construction was conducted while both hospitals remained fully operational. The Hervey Bay facility was an extension of the existing building, requiring some structural modification, as well as digging out 400ml of ground to enable the installation of the modules at floor level so that it was seamless with the rest of the hospital.
Sophisticated cancer treatment centres of this type would normally take anywhere from 12 up to 24 months to complete. Hutchies was able to deliver both facilities in four months. This was largely due to the modular design, as well as putting in place an expedited schedule throughout the entire project to ensure GenesisCare would be ready to start delivering services within the prescribed timeline.

Once the 31 modules were constructed in our modular facility in Yatala, they were transport to Bundaberg and Hervey Bay via a convoy of semi-trailers. The Bundaberg centre is the larger of the two, incorporating 22 modules, which were installed in a single day.

To deliver in such a tight timeframe required a huge collaborative effort between Hutchies, GenesisCare and the respective hospitals, with teams working extended hours to ensure deadlines were met. Both facilities were operational and treating patients within a week of installation and commissioning.
Moura Community Hospital
Moura, QLD
The $4 million Moura Community Hospital was a pilot project for Queensland Health, developed using a unique modular design. The sheer remoteness of the site called for an innovative approach and precise sequencing to meet the tight 27-week program. This was achieved through the ability to overlap site work and modular construction of the buildings which was conducted in Hutches modular yards off site.

Installation of building services for the hospital was particularly challenging to ensure optimum functionality. The ultimate challenge was to provide a contemporary facility that looked and felt in-situ, but brought all the cost and program benefits of a modular installation. The success of this project will result in the rollout of 47 new quality community health centres across the most isolated areas of Queensland.
As the first modular hospital in Queensland, the health facility is a pilot project for Queensland Health designed and developed by Hutchinson Builders using the unique design and construction. Working in partnership with the Central Queensland Hospital and Health Service and the Moura community, Queensland Health ensured the new facility included room for growth and was based on a model of care that worked with public and private services.

Joanne Gill




Health Infrastructure Branch
#Get in touch
Talk to our modular specialists