Mixed Use
Hutchies understands business. We know the pain points, challenges and drivers. Our mixed use sector clients trust us to deliver remarkable workplaces for their people and memorable showrooms for their customers. Whether it's a office building or a complex technology centre; brownfield or greenfield; we are known for innovation and value.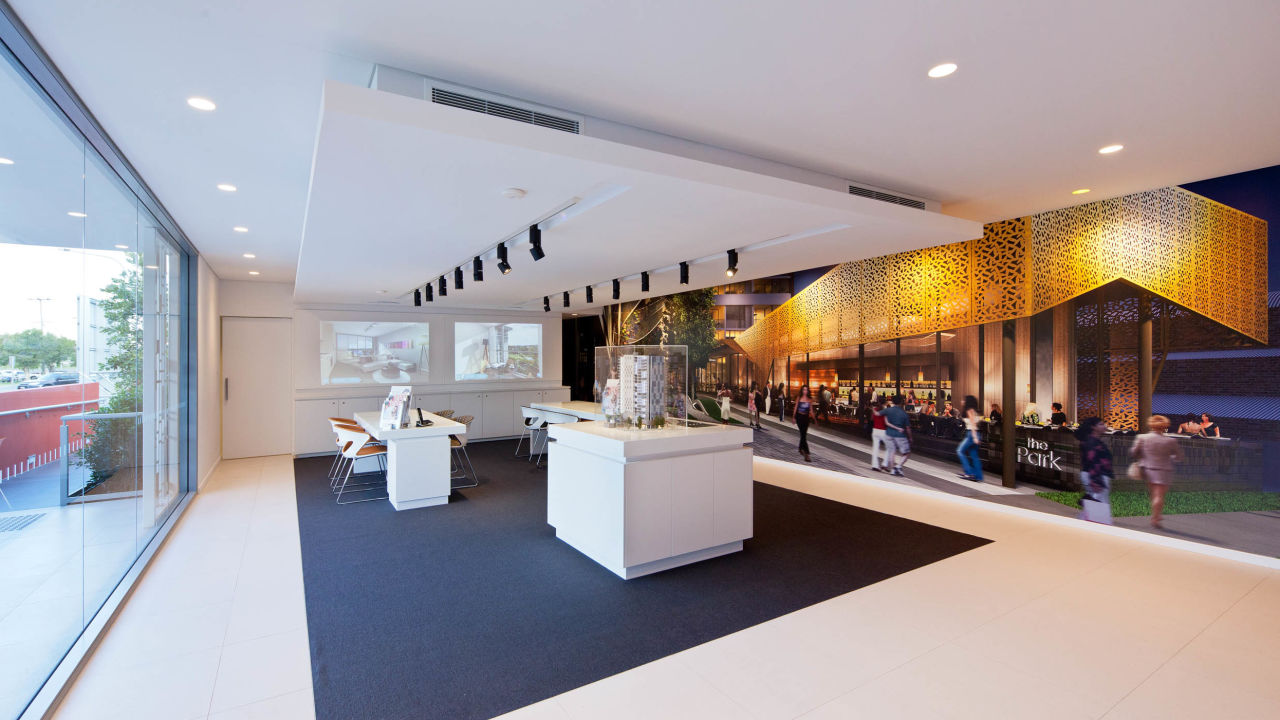 Novotel Display Suite
South Bank, QLD
Hutchies was awarded the $47M 4.5 star, 238 room Novotel hotel at Brisbane's South Bank on the basis of our track record for delivering quality hotels. Commenced in late 2016, the project was completed six weeks ahead of schedule and on budget in May 2018.

During the early phases of construction, Hutchies provided a high-quality off-site modular mock-up room for Novotel to refine their chosen room designs. This gave the developer and its partners surety in the outcome for their future guest experience at the new South Bank Novotel, as well as ensuring all final detailing and high quality finishes were agreed by the stakeholders prior to commencing the main works on site.
Foreshore Display Suite
Hamilton, QLD
Mirvac, one of Australia's leading developers of owner occupier residential products, engaged Hutchies to design and construct a new sales suite for their prestigious Hamilton Foreshore precinct. We immediately identified the benefits modular construction would provide the project, especially given Mirvan intended to relocate the building up to 5 times around the precinct as stages finished. The design of the suite was to replicate the look and feel of an authentic, high quality Mirvac product. It featured two different apartment layouts, sales offices and visitor amenities. Careful consideration was required in order to quickly and efficiently dismantle, relocate and reassemble the building as Mirvac's staged development unfolded.
Blue Care Sales Suites
Carina & Redcliffe, QLD
Hutchies partnered with Blue Care to design a modern and flexible sales suite to service their new Azure Blue brand. The building would first be used for the sales at their Carina site and then later moved to their Redcliffe project. We designed and built this high quality building in our modular yard at Yatala. It was transported to site and installed with surrounding beautiful landscaping to make it feel as though it was in-situ.
Bells Reach Vision Centre & Cafe
Bells Reach, QLD
Stockland engaged Hutchies to design and construct this stunning mixed use complex for their Caloundra land release. The building provides visitors a cafe / restaurant and the sales / display suite for their new house and land packages.

Designed by Spark Architects, the building features a unique sail roof system engineered over the structure. The facade features batten work, giving the building an in-situ high quality finish. Surrounding landscaped gardens, seating areas and a playground provide a welcoming entrance and expansive area for visitors to relax. The complex was designed, built and installed in under 3 months.
#Get in touch
Talk to our modular specialists